"The Ancient Greek Historians", by J.B. Bury
.
This book is a series of lectures originally given at Harvard in 1908 by one of the greatest in classical studies. While perusing the shelves of a Barnes and Noble recently, I came across this and couldn't resist, especially since it was only $7.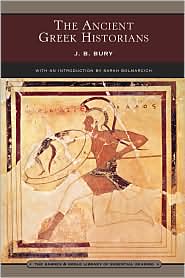 I have been studying
Ben Witherington's commentary on Acts
recently and it includes the assertion that the Biblical writer Luke was largely operating in the historical traditions of Polybius and Thucydides. In particular, the handling of the large portion of speeches (30% of Acts) and the need to travel, research facts, and generally be thorough in everything he did. Now I can hear the sounds of thousands of 19th century scholars groaning in their graves.
Bury provides an outline of the development of historical methods beginning with Homer, and continuing through Herodotus, Thucydides, Polybius, and finally to the Roman historian Tacitus, but with many others mentioned along the way. The handling of the speeches is a major theme, particularly as Polybius protests the earlier historians who simply invented whatever they imagined. There is also the distinction between the arm chair historians of Rome and the get-your-feet dirty style of Polybius and Xenophon who also wrote about military campaigns which was informed by their expertise in military affairs. I wish he had some comments about Josephus.
At the end, Bury credits Christians with formulating a broader notion of history than what preceeded, but then complains that Christians subordinated history to dogma in the middle ages and history wouldn't become scientific again until the 19th century. This deserves a smirk, because the 19th century is what gave us the flat earth theory, the twisting of the story of Galileo, and the fabrication of the "dark ages", ... - all done to conform with atheist dogma that ruled academia from the early 19th century.
Regarding Biblical comparisons, there is more than just Luke. Thucydides is credited with removing the supernatural from the immediate discourse, but then we have Ezra-Nehemiah and Esther which don't mention the supernatural directly either, and purport to be from the era of Herodotus. Could it be that Thucydides picked up his pattern from somewhere else? More groaning. But then Luke was a doctor, so his expertise regarding healing should be comparable to Xenophon's expertise in military affairs, so Luke would be the right one to write and Jesus and the early church, wouldn't he? Bury is a good read and provides a nice summary to fill in the claim of Witherington regarding the methods of Luke.
Correction: The Dark Ages was in use long before the 19th century.